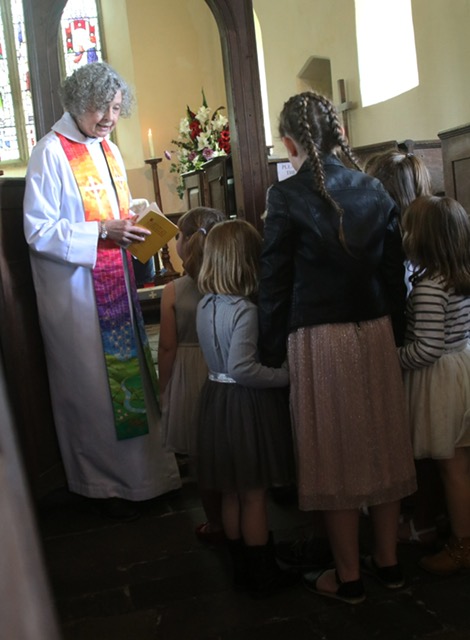 Many people feel a natural sense of wonder and joy at receiving the gift of a child, and wish to mark it in a special way. We are delighted that you are considering coming to church as a family and celebrating with us for a baptism or a service of thanksgiving (naming and blessing).
How do we go about it?
If this is something you would like to explore, please contact Dominic or Alison at the number below. We can then arrange a time to meet which gives us a chance to explain the different options available to you, and you have the opportunity to ask any questions you may have.
Once a decision has been made as to whether we are preparing with you for a baptism, a service of dedication or a service of thanksgiving, we will agree with you a date and a way to prepare for that service to ensure that it is as meaningful as possible.
When would we come to church?
Please note that it is our practice to baptise children in the main morning services across the group. This is because a child is baptised into the church, and much of the service assumes that the congregation is present. There may be another family also having their child baptised in the same service, and you should come expecting to participate in a service lasting up to an hour. It is not our practice to offer private services of baptism.

Services of 'Thanksgiving' or 'Naming and Blessing', as they are sometimes called, can happen at other times and are less formal and shorter, lasting about 20 minutes or so.
Does it matter where we live?

As with marriages, you need to be living in our parish or to worship regularly in the Group in order to have a child baptised. If you live outside the area and do not regularly attend our services but have strong connections we are happy to consider baptism with the consent of your own parish priest.
You are welcome to visit any of our churches to come and take a look before you decide (service times can be found in the 'In Touch' magazine).
Please do contact us with any further questions or to make a request for a visit.
If you would like to find out more information about what Baptism means within the Church of England, what the service entails or help in choosing Godparents please following the link below.
https://churchofenglandchristenings.org/